Other Products: K-Sun PEARLabel 400iXL Wide Format General Label Printer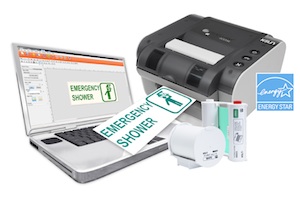 The K-Sun PEARLabel 400iXL General Labeling Solution pairs the new PEARLabel 400iXL Energy-Star certified, wide-format thermal transfer printer with powerful new PC software for industrial and safety labeling, wide heat shrink tube markers, custom and compliant pipe markers, tags and more.
The 400iXL General Labeling Solution is designed for hazard communication, safety, 5S/Lean, GHS, manufacturing, warehouse and facility professionals--anyone who needs to make compliant communication in-house and on demand, at a significant cost savings over ordering signs and labels from outside vendors.
The K-Sun PEARLabel 400iXL printer can print one-, two- and four-inch wide all-weather labels and pipe markers up to 90" long plus die-cut label formats. The printer has a five-year warranty.
The 400iXL General Labeling Solution includes the intuitive K-Sun MaxiLabel Pro Ver 5.0 General Labeling Software for making industrial and safety labels fast and easy, including bar codes/DM/QR, GHS symbols, alphanumeric and bar code sequencing, and more. Easily import graphics, text and data. Select from almost 1,100 pre-designed or editable templates for caution/warning, pipes/valves, directions, safety, anti-disaster/crime scene, business, store/plant, hospital and school.
More than 1,000 symbols include Abbreviations, ANSI, Arrows, Electrical, Environmental, Exit, Facility, Fire, GHS, ISO, WHMIS, IMO, Lab, Office, PPE, Recreation, Retail, Shipping, Target Organs and Transportation. Pre-defined signal words are available in 23 languages.
Convenient features include a drop-down font view menu, date/time stamp, auto reverse type and toolbar short-cuts for patch panel, heat shrink tube and equipment/asset management. A borderless printing feature allows the creation of tiled signs, tags and labels up to 16" inches high. A print-paste/multiply function makes larger labels in sections or in different colors. The ribbon-repeat function can automatically repeat symbols and words for barricade-style tape. The software includes adjustable margin settings down to 1 mm to save money on materials.
MaxiLabel Pro Ver 5.0 also works with all K-Sun label printers, including the PEARLabel 270 and 360 and the K-Sun GREEN MACHINE, to create heat shrink tube markers, bar codes, wire markers, wire wrap, iron-on fabric, magnetic tape, glow-in-the-dark, fluorescent and other adhesive labels from 4 mm (1/6") to 36 mm (1 1/2").
With the purchase of the new K-Sun PipeMarker V8 software, the 400iXL General Labeling Solution can be used to make custom and compliant pipe markers in-house and on-demand. This reduces cost to pennies per pipe marker while cutting production time from days to minutes.
PipeMarker V8 has more than 800 pre-defined English, Spanish and bilingual pipe marker templates for 14 categories--from air and chemical to HVAC and water--that are compliant with ASME, OSHA, ANSI, IIAR, NFPA, CGA and NEC standards. K-Sun PipeMarker V8 software can automatically convert markers to tag formats too.
MaxiLabel Pro Ver 5.0 and PipeMarker V8 software programs are compatible with Windows 8.1, 8, 7, Vista and XP.
For more information, contact info@ksun.com, www.ksun.com or call 800-622-6312 Ext. 214.