Material Handling: Diversified Products Man Baskets for Service Cranes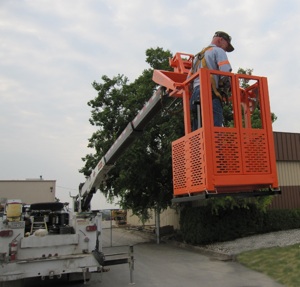 Diversified Products introduces the first Quick Attach Man Basket specially designed for use on service cranes. The yoke-style basket features a universal mounting bracket for installation on a wide variety of service crane styles, and it provides a much safer option for construction and utility work than using ladders or climbing on equipment. It also extends the versatility of service cranes used in mines, petrochemical plants and a wide variety of other large equipment applications.
Diversified's man basket is made from heavy-duty steel for withstanding tough jobsite conditions. The basket also provides improved access to equipment, and its design allows the unit to be stored on the service body. The full-sized floor is 30 inches wide by 30 inches deep, and the inward-opening doors are designed to save space, promote easy entry and provide additional worker safety.
Further safety features are incorporated to help the man baskets meet or exceed ASME standard B30.23 for personnel lifting systems. These features include floor slots to drain water, as well as upset holes to prevent slippage. Additionally, each man basket contains a low-maintenance, high-capacity caliper brake.
Options for the man baskets include a step for added convenience, a stand for installation on uneven ground or large cranes, and a CSA-approved upper basket enclosure. Besides this product, Diversified also offers a full line of yoke-style, rotating and custom-built man baskets for other types of equipment.
Diversified Products offers a wide range of attachments for cranes, knucklebooms and digger derricks. For more information about the Quick Attach Man Baskets or other specialty product capabilities, contact Diversified Products, 1001 Webster Avenue, Waco, Texas 76706, phone 254-757-1177, fax 254-757-1188, or visit the Web site.