Material Handling: Multi Wedge Non-Marring Wedge Pry Tool Set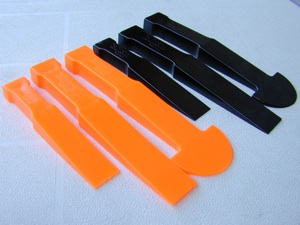 This amazing new Pry Tool set replaces damaging screwdrivers which are not intended for use as prying tools because they always cause marring and nicks.
Multi Wedge tool sets are strong but gentle for all types of surfaces.(Wood, Rubber, Plastic, Glass, Soft Metals) The tools have very thin tips allowing the user to get into tiny gaps, great for trim and baseboard removal, even panels or moldings, or disassembly of furniture for restoration, a must for every toolbox.
Multi Wedges received a 96% approval rating from over 400 Handy Magazine, DIYers and professionals.
The tool sets are made of 2 different materials recognized by the 2 colors Orange and Black.
Multi Wedge's Orange wedges are made of a high tech blended polyethelene material which is very
flexible with a softer slick surface critical when prying apart custom trim and molding.
Multi Wedge's Black wedges are made of a high tech blended polycarbonate material, they are
designed to handle the excessive force necessary for tougher applications, or for example prying
hardwoods.
Tool Features:
Super-fine tip
Built-in handle and striking surface
Slick surface
7" long
2 materials for soft and hard applications
Available in Orange set (3 pcs) Black set (3 pcs) or Both Sets (6pcs).
For more information, contact Robert Cameron, Southwestern Manufacturing, 888-718-5645 (949) 400-3084; E-mail: rcameron@multiwedge.com