Material Handling: Jim Potts' The Scoop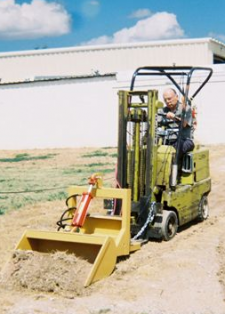 Jim Potts introduces "The Scoop" detachable bucket scoop designed for forklifts and tractors. It installs in minutes and fits most tractors and forklifts on the market.
The farm tractor model is available in 6- and 8-foot models and three different sizes: 13, 15 and 18 inches deep. The fork lift model can be made in different widths and sizes.
Any unit can be set up with hydraulics to attach to the host unit or equiped with a 12-volt hydraulic pump unit that hooks to a vehicle battery.
It features:
Fast & easy hook-up
Three different size buckets
Same mount and cylinder fits all buckets
Reasonable pricing
Made in the USA (Patent Pending)
www.jimpottsautoglass.com/scoop