Material Handling: Master Magnetics magnetic sweepers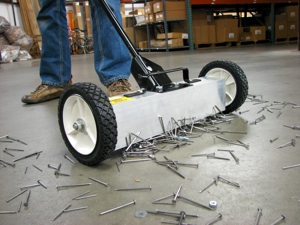 Master Magnetics, Inc. (The Magnet Source™) introduced the latest additions to their line of magnetic sweepers. The super-powered, permanent magnet assemblies ranging from 12" to 96" in width are perfect for the fast and efficient removal of hazardous scrap metal debris from warehouses, loading docks, parking areas, runways, manufacturing and shop areas, job sites, workshops and other important traffic areas.
Hang-type sweeper – The new 36 and 48" hang-type sweepers feature a release handle for quick and safe release of collected material. Includes two eyebolts for securing in place on forklift forks or to suspend with a chain from a vehicle. Powerful strength (330 lbs. pull for 36" and 440 lbs. pull for 48") allows for quick and effective sweeping of large areas.
Push-type sweeper – The new 18" push-type sweeper features a quick-release handle for fast and easy release of collected metal debris, a height-adjustable handle, and 7" wheels with an adjustable sweeping height from .5" to 2.5". Perfect for quick clean-up of small to medium-size areas.
To view a video of magnetic sweepers in use and for more information on all Master Magnetics' push, hang or trailer-type magnetic sweepers, visit magnetsource.com.