Diamond Equipment: Klindex Superconcrete HS Polishing System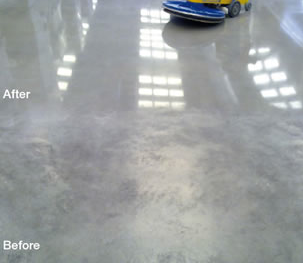 The Klindex Superconcrete HS Polishing System is the quickest and easiest way to transform any smooth or hard steel trowel surface into an aesthetically pleasing, durable and stain resistant surface that looks like a mirror and is as strong as iron. New King Conc Diamond Impregnated Floor Pads make achieving a glossy concrete floor easier than ever.
BENEFITS
Increases the strength of concrete floors
Helps control dust
Scratch and wear resistant
Stain resistant and water repellent
Extremely economical for commercial and industrial areas
Low maintenance
Environmentally friendly
Green flooring choice V.O.C FREE
Allows floors to breathe to prevent spalling
Extremely long lasting when compared to original methods like resin floors
APPLICATIONS
Warehouses
Logistics centers
Parkades
Commercial and office facilities
Production factories
HOW TO PREPARE SURFACE
Floor must be clean and dry.
Make first pass with KING CONC 00 using HURRIKANE on low rpm. This will allow floor to become smooth and remove any undesired marks and surface roughness.
Apply BETON GUARD PRIMER diluted 1 / 10 with water and apply with a low pressure sprayer and distribute evenly with micro fibre cloth.
Allow BETON GUARD PRIMER to dry evenly (see data sheet) and apply second coat.
Polish with KING CONC pads numbered 2/3 with HURRIKANE on high rpm.
OPTIONAL
If higher gloss is required apply BETON GUARD FINISH and allow to dry evenly. Pass over with HURRIKANE and DISCOLUX at high speed.
MAINTENANCE
Wash floor with BETON SOAP to maintain protection and to keep the floor looking like new. If required pass high speed burnisher with DISCOLUX to remove surface scuffs and to repristine the shine.