Air Tools: Dynabrade Heavy-Duty Vertical Air Tools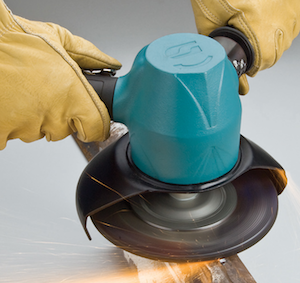 Dynabrade, Inc. is proud to introduce a new series 2 and 3 horsepower Heavy-Duty Vertical Air Tools. This new tool line features American Made Vertical Sanders and Grinders.
Ideal for heavy grinding applications, these air tools are ideal for efficient material removal and are excellent for use in Foundries, Steel Mills, Shipyards and other high abuse environments.
This new line features 7" Diameter Vertical Depressed Center Wheel Grinders. Available in either 2 or 3 horsepower, the tools are available in 6,000, 7,200 and 8,500 RPM. A 6" Diameter Vertical Cup Wheel Grinder is also offered in 2 and 3 horsepower models. Running at 6,000 RPM, these tools are ideal for heavy deburring and fast weld and stock removal.
A line of 7" Diameter Vertical Disc Sanders is also offered. Available is 6,000, 7,200 and 8,500 RPM, these tools are excellent for grinding sheet metal, sanding metal parts, removing mill finish, paint and rust among other tasks. These tools are also available in either 2 or 3 horsepower.
Each tool is governor-controlled to maintain speed under load. Additionally, each tool features an over speed shut-off, which will stop the tool when the speed exceeds the maximum RPM, helping to ensure operator safety. No-obligation demonstrations are offered on these or any Dynabrade tool.
Dynabrade has been supplying quality industrial abrasive power tools and accessories to industries worldwide for over 44 years. Call 716-631-0100.