Festool VAC SYS Portable Vacuum Clamp System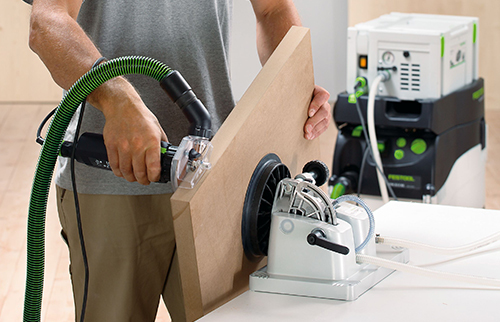 Festool USA introduces a completely portable, suction-based clamping system, the VAC SYS, that the company says will establish a new benchmark for how work is done in small shops or on jobsites. The VAC SYS System allows the user to effectively clamp non-porous material for machining and finishing while protecting delicate surfaces from clamp damage. Each clamping module is equipped with a suction base that adheres to nonporous surfaces with a quick release valve, and can adapt to many surface sizes based on interchangeable vacuum cups.
"The VAC SYS will truly improve the way professional craftsmen work – it provides industrial-quality, suction-based material clamping whether you're in a smaller shop or on the jobsite," says Steve Rangoussis, Chief Sales and Marketing Officer, Festool USA. "Now, wherever the work is, the VAC SYS provides a fast, easy and highly maneuverable solution for almost any clamping application."
The VAC SYS is positioned to become the clamping option of choice for panel preparation; from edge banding to trimming to sanding and final finishing. With VAC SYS, users can clamp narrow stock for mortising - like slat or stile and rail stock, clamp doors for final sizing or boring for adding hardware. The VAC SYS is ideal for any application that benefits from seamless access to all sides without the burden of moving or manipulating clamps and it will speed up production times.
The VAC SYS reduces set-up time and provides full surface access quickly and easily. Its vacuum-based clamping technology with soft vacuum cups provides non-marring clamping which protects the workpiece and helps to reduce re-work. Because material can be rotated a full 360 degrees, or can be tilted from 0 to 90 degrees for even greater access, the VAC SYS puts larger and more awkward pieces well within reach, reducing user fatigue associated with stretching over and around the material.
Festool is offering three different VAC SYS product configurations:
VAC SYS System – Includes the VAC PMP Vacuum Pump, VAC SYS SE 1 Clamping Module with Round Vacuum Pod, and a Foot Valve.
VAC SYS System Set – Doubles the clamping coverage by combining the VAC SYS System above with an additional Clamping Module SE 2.
VAC PMP - Designed for use with Clamping Modules, this continuous-duty pump is quiet, efficient, and features a front-panel pressure gauge for easy monitoring. 
For more information, visit www.festoolusa.com.