Harrington Hoists EDV Mini Electric Chain Hoists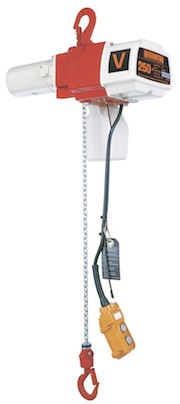 Harrington Hoists, Inc. proudly introduces their EDV Mini electric chain hoist. This is a single phase, single speed hoist that features Smart Speed Technology which allows users to change the factory set speed to a higher speed by making a simple adjustment inside the hoist when necessary.
The ED-V Mini hoist handles critical or awkward loads by providing the speed flexibility and precise load positioning needed for a variety of lifting requirements.
The ED-V Mini hoist includes a die-cast aluminum body, Weston-style and regenerative load brake, heat treated gearing, friction clutch, upper limit switch and nickel-plated load chain. It is a lightweight, low-headroom hoist that is easy to install, transport and store and is available in four capacities of 250, 350, 500 and 1,000 pounds.
Harrington Hoists, Inc. is a Kito Group Company located in Manheim, PA, Elizabethtown, PA, Corona, CA and South Holland, IL and is a leading supplier and manufacturer of electric and air powered chain hoists, electric wire rope hoists, lever hoists, manual hand chain hoists, push and geared trolleys, overhead cranes, crane accessories, below-the-hook and material handling devices as well as a a full line of replacement parts. Learn more at www.harringtonhoists.com