Power Pusher Electric Wheelbarrow with Slurry Tub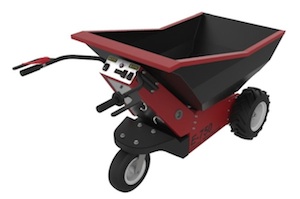 In 2013, Power Pusher, a Division of Nu Star, Inc. introduced the E-750 Electric Wheelbarrow. With its push-button unloading capabilities and ergonomic design, users can increase productivity while improving safety and efficiency. The unit is electric, providing users the option of indoor or outdoor use.
The quick change attachment system also allows users to choose from multiple attachment options, providing the versatility of multiple machines in one single unit.
Power Pusher strives to continue developing innovative solutions that meet the user's unique application needs, which is why its engineers designed a concrete industry specific "Slurry Tub" for this year's World of Concrete.
The newly designed poly-tub can hold a true 1⁄4 yard of liquid concrete while minimizing material loss during transport. This state-of-the art equipment is durable, easier to clean, and still maneuverable through a standard 32-inch door.
Specifications:
Liquid volume: 6.75 cubic feet (1/4 yard)
Solid volume: 11 cubic feet
Capacity: 1,000 pounds
Tub Material: Heavy-duty high-density plastic
Width: 32 inches
Height: 39 1/4 inches
Length: 69 3/4 inches
Max speed: 4 mph
Electrical: Rechargeable 24-volt system