Milwaukee Shockwave Matrix Carbide Driver Bits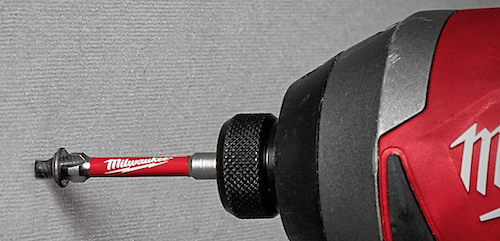 Milwaukee Tool continues to re-define extreme driver bit performance and wear resistance with the introduction of SHOCKWAVE MATRIX CARBIDE, a new line of premium driver bits backed by a Lifetime Tip Warranty.
"When Milwaukee introduced SHOCKWAVE in 2009, the innovative shock absorbing shank, Shockzone, was the first of its kind and led to a revolution in industry-wide design. Since then, Milwaukee has continued to develop, innovate and fine tune the SHOCKWAVE line to ensure the very best fit, performance and wear resistance available on the market," says Allie Jensen, Product Manager for Milwaukee Tool. "Driving up to 2,800 more screws than other premium driver bits in testing, SHOCKWAVE MATRIX CARBIDE is the new industry benchmark."
SHOCKWAVE MATRIX CARBIDE
Through the disruptive engineering methods and new-to-world innovation in SHOCKWAVE MATRIX CARBIDE bits, users no longer have to sacrifice wear resistance to gain impact durability. The combination of proprietary Matrix Carbide Steel and optimized Shockzone technology deliver extreme wear resistance while still being able to absorb the peak torque of an impact driver. This revolutionary advancement in driver bit technology is backed with a Lifetime Tip Warranty ensuring users that they will continue to be able to drive fasteners long after all other bits have failed.
"While Shockwave Matrix Carbide will outperform other impact bits across all applications, the extreme wear resistance will be the most valuable in highly repetitive tasks such as steel stud framing, drywalling, decking and pre-fabrication", says Jensen. "Applications where thousands of screws are driven lead bits to cam-out and wear overtime, but Shockwave Matrix Carbide will maintain their best fit longer than all other bits on the market."
Like all SHOCKWAVE solutions, the new bits are optimized with a unique Shockzone geometry in varying lengths and thicknesses to absorb peak torque and prevent breaking. The new SHOCKWAVE MATRIX CARBIDE driver bits will include a variety of bit lengths and kit configurations in Phillips, Square, and Torx tips.
NEXT GENERATION SHOCKWAVE
In conjunction with the new premium line, Milwaukee Tool has also continued to innovate and optimize the original SHOCKWAVE Impact Duty driver bit line and will be rolling out a new generation in the Spring of 2019. The upgraded line was engineered to extend bit life with a Custom ALLOY76 Steel for up to 50X more life, and will feature a new WEAR GUARD TIP to protect the fit over the life of the bit. An optimized Shockzone™ also absorbs peak torque and prevents breaking.
Milwaukee Tool's SHOCKWAVE Impact Duty accessories are designed and developed to be the best performing impact accessory solutions in the industry. Through disruptive new engineering methods such as proprietary materials, progressive heat treatments, and advanced geometry, Milwaukee continues to focus on driving impact accessory performance forward and providing the best user experience for the application at hand. Milwaukee is dedicated to saving time and increasing productivity for users and will continue to invest in and expand its SHOCKWAVE Impact Duty line.
SHOCKWAVE™ MATRIX CARBIDE Driver Bit Types
Phillips – PH1, PH2, PH3 (Available April 2019)
3" Magnetic Bit Holder (Available April 2019)
Square – SQ1, SQ2, SQ3 (Available October 2019)
Torx –T20, T25 (Available October 2019)