Other Products: Glacier Computer Fusion 7 Android Tablet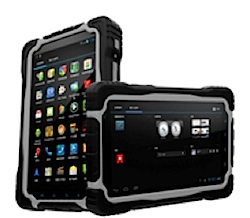 The Fusion 7 Rugged Android Tablet extends the Glacier Computer product line of rugged industrial PCs, rugged tablets, portable hand-held devices, and fixed mounted data collection computers.
Glacier Computer industrial computers are typically used in harsh industrial environments where a standard PC cannot survive. The Fusion 7 offers the enterprise and additional advantages of the Android OS while remaining sealed and ruggedized.
The Fusion 7 is compact, light, and feature-rich. It enables businesses and their mobile users to add efficiencies throughout the operation while providing a capital asset with a significantly-extended useful life, and a superior ROI.
The Fusion 7 combines the advanced power management and memory management capabilities of Android enabling more than 1 million applications to run on the typically-rugged Glacier device.
To further enhance the usefulness, and to ease some of the pain of adapting to the new OS, Glacier is collaborating with complementary business partners including The Allen Group and SOTI. These and other channel partners will enable broader adoption of the Android OS within the traditional Windows environments of the industrial marketplace.