Other Products: General Tools Professional Face Frame Jig System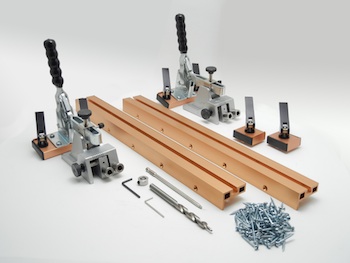 The new Professional Face Frame Jig System from General Tools & Instruments enables woodworkers and cabinet makers to create a production setup in just minutes for the fast and precise fabrication and assembly of cabinet face frames and doors.
Wood frame and door components can be aligned, securely clamped, bored for pocket holes and screwed together in one operation.
This patented, one-of-a-kind system saves time and increases productivity by eliminating the need for separate drilling and assembly operations and delivering repeatable, professional results.
General's Professional Face Frame Jig System accommodates stock from 1¼ in. to 2½ in. wide and 3/4 in. to 1 in. thick. It offers pocket hole spacing adjustment from 3/4 in.to 1½ in. for maximum joint strength.
The Face Frame Double Jig System (8562) includes:
Two 20 in. slotted T-track Rails
Two pre-assembled Clamp Mount Jigs for clamping work pieces and boring the pocket holes
Two cam-locking Carriage Stop Clamps for repositioning the jigs in subsequent drilling positions
One Step Drill Bit with adjustable stop collar and hex wrench for boring the pocket holes
One pack of 100 Self-Tapping Fine Threaded Fasteners (1¼ in.) for fastening the frames (can also be used for mounting the T-track Rails to a workbench or auxiliary work platform)
One #2 Square-Drive Screwdriver Bit (6 in.) to drive the self-tapping fasteners
Instruction Manual
A Face Frame Single Jig System (8561) is also available. The only difference is that it includes just one T-track Rail and one Clamp Mount Jig. All Professional Face Frame Jig System components are available individually and may be added to create a larger production line setup.
To learn more, visit www.generaltools.com or call 800-697-8665.