Other Products: Rockler Rolling Barn Door Hardware kits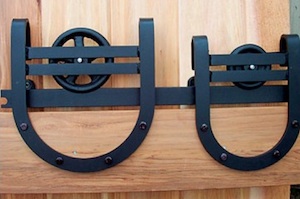 Rockler Woodworking and Hardware has introduced Rolling Barn Door Hardware Kits – complete sets of mounting hardware that allow contractors or DIYers to securely hang rolling barn-style doors in any interior doorway that offers sufficient space for the door to slide to the side.
Since the door glides open to the side instead of swinging open, the Rolling Barn Door Hardware is especially useful in narrow spaces and other areas where a swinging door is not feasible. The door glides on a smooth Quiet Glide rolling track system, which results in whisper-quiet operation.
"Rolling Barn Door Hardware is a stylish, decorative door solution that also makes the best use of limited space," says Steve Krohmer, Rockler's Vice President of Product Marketing. "The fact that the door glides open to the side eliminates the issue of swing clearance, which is a huge advantage when space is at a premium."
Rolling Barn Doors as Interior Design Features
The rolling barn door style concept is gaining popularity with interior designers and adds a modern, yet rustic touch to the interior design scheme of the living space. Beyond typical use as a bedroom door or living room entrance, rolling barn doors are being used for everything from bathrooms to closets to pantries and even as a solution to hide flat panel TVs when they are not in use.
The gliding motion of the door is reminiscent of pocket doors, but the result of the Rolling Barn Door Hardware is much quieter and more decorative, embracing the door as something to look at instead of treating it as something to hide.
The Rolling Barn Door Hardware Kits are comprised of solid steel components (except for the Quiet Glide gliding track, which is solid aluminum). The kits include two roller straps, two floor stops, a two-piece center guide, a six-foot Quiet Glide rolling track, two end stops, five wall brackets, and all mounting hardware necessary for installation. Each Rolling Barn Door Hardware Kit is rated to hold a door weighing up to 250 lbs. for interior use.
The Rolling Barn Door Hardware Kits feature a black finish and are available in four styles – Round Stick (56500), Horseshoe (53578), and Rectangle (57686) retail for $289.00, and Hammered Spade (57053) for $399.00. All can be purchased at Rockler Woodworking and Hardware stores nationwide, Rockler independent resellers, www.Rockler.com or from the Rockler catalog.