JET Router Table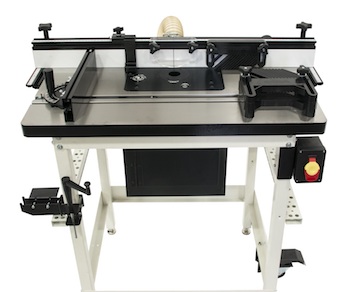 The new JET Router Table claims to be the most versatile system of its type available to woodworkers today. Options include a cast iron or MDF table top, precision router lift, fence system with feather board and flip top add-ons, easily transportable rolling stand, and multiple dust collection features.
All components are also sold separately, so that users can mix and match them to assemble the router table solution that best fits their woodshops.
A choice of either cast iron or MDF table tops offer options for durability and affordability. Both table tops have a footprint of 32" x 24" to support a wide range of work pieces. The precision machined, cast iron table weighs 88 lbs. and provides maximum durability and a solid surface for all routing applications. The lighter-weight MDF table is melamine-topped for a smooth work surface.
The milled aluminum router lift has above-the-table height and lock controls for convenient tool adjustments and changes. One turn of the dials raises or lowers the lift 2 mm at a time. The lift's sturdy, four-post screw design with chain drive keeps tolerances tight and rigid.
A micro-adjust fence assembly includes easy-to-read guide rails that allow users to dial-in the exact size profile required. A scale on top of the fence facilitates placement of stops at different points of operation. The adjustable fence provides optimum support for work pieces of different sizes. An integrated dust port is helps clear dust and chips at the source of the cut.
The customizable fence system accommodates optional flip stop and feather board add-ons. The flip stop helps provide repetitive cuts and can be removed when not in use. Feather boards press the work piece against the table, resulting in more consistent, accurate routing.
The heavy duty floor stand has an integrated mobile base and onboard accessory storage. A power switch attaches to the stand, allowing the operator to control the router without reaching under the table. A miter gauge also is included.
The dust collection system features an enclosed dust box that surrounds the router, as well as an integrated port in the fence at the source of the cut. The dust box's all-metal construction with air flow vents ensures maximum dust collection and containment, as well as durability. The dust box has a standard 4" port.
The JET Router Table is covered by a 5-year warranty and the JET Red Assurance program, representing outstanding service and technical support. For a listing of authorized service centers in your area, call (800) 274-6848, 7 a.m. to 5:30 p.m. (CST), Monday through Friday or visit www.jettools.com