JET 10 Inch ProShop Table Saw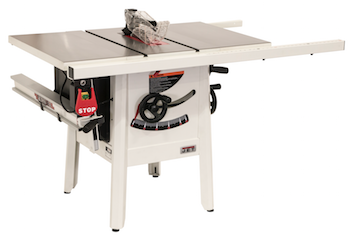 Woodworking enthusiasts and owners of wood shops will take notice of JET's new 10 in. ProShop Table Saw that's loaded with features usually reserved for higher-end saws. One size does not fit all with the JET ProShop saw.
Choose from the standard 30 in. or upgrade to the 52 in. rip fence and select cast iron or stamped steel extension wings.
"Our new JET ProShop saw has upgraded features throughout," said Michael D'Onofrio, JET's Product Manager for Woodworking. "We give the user options in choosing the saw with features that suit their shop needs."
From the top down, JET made changes to the ProShop hybrid saw with user-friendly upgrades such as the newly designed arbor lock that makes blade changes quick and easy to reduce downtime in the shop. Also noticeable, is the new clear view blade guard assembly with separate leaves that function independently of one another. The redesigned, quick-release riving knife has operator safety in mind to reduce the chance of kickback. A low profile riving knife and dado insert also are included for non-through and dado cuts.
Moving to the saw's interior, an improved shroud surrounds the blade to improve dust collection capabilities. A convenient, oversized magnetic paddle "off" switch is employed for safe operation. The motor's reset switch has been conveniently relocated to next to the saw's power switch as well.
The JET ProShop saw is powered by a 1-3/4 hp, single-phase motor that's prewired for 120V or 230V operation. At 3,450 rpm, the saw's transfer of power is constant. The on/off power switches are close to one another and provide overload protection. Two, oversized hand wheels raise/lower and bevel the 10 in. blade.
JET's innovative single-lock ProShop fence design helps provide professional results as it glides easily along the saw's rails. Its magnifying rail guide allows the user to pinpoint and clearly identify the desired stop. The left-tilt saw supports sheet goods and other dimensional lumber with the optional 52 in. maximum rip capacity to the right of the blade and 13.5 in. to the left.
The ProShop saw also accommodates 8-in. dados with a 13/16 in. width. A dado insert is included with the saw. A miter gauge with adjustable positive stops helps set up cross-cutting operations and miter cuts.
The one-piece, powder-coated, steel closed cabinet houses a heavy-duty trunnion for rigidity and support. The cast iron table top with beveled edges measures 44 in.L x 27 in.W (std.). The cabinet also provides external storage for saw accessories.
The JET 10 in. ProShop Table Saw is covered by a 5-year warranty and the JET Red Assurance program, representing outstanding service and technical support. For a listing of authorized service centers in your area, call (800) 274-6848, 7 a.m. to 5:30 p.m. (CST), Monday through Friday or visit www.jettools.com
For more information on the JET 10 in. ProShop Saw (Stock No. 725000K, $1,399.99; 725007K, $1,699.99) or to find a local distributor, visit www.jettools.com.