Other Products: Haydon H-Block Mini Rooftop Support System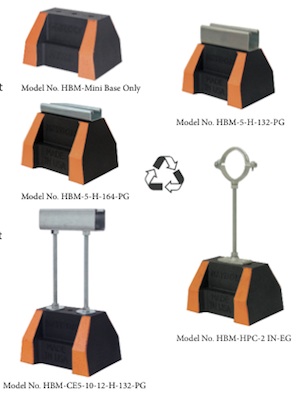 Haydon Corporation, a leading manufacturer of metal strut framing products, has announced the launch of its H-Block Mini Roof- top Support System.
Designed and manufactured in the United States, the H-Block Mini is an economical, versatile support system for mounting and supporting single pipe applications without losing strength and integrity to serve the electrical, mechanical, roofing, OEM and solar industries.
Made from 100% post-consumer recycled rubber
LEEDs Certifiable
100% ARRA compliant
Can be assembled with pre or post-galvanized steel, 304 and 316 stainless steel, PVC coated or aluminum strut
Rooftop supports have been tested by an accredited Independent Laboratory To The Following:
ASTM D575 Method B – Modified – Compression/Deflection
ASTM D1171 Modified – Ozone Resistance
Freeze/Thaw Environmental Simulation
For more information, e-mail sales@haydoncorp.com or call 1-800-2-HAYDON. Visit the website at www.haydoncorp.com.