Other Products: Omega Stucco Cleaner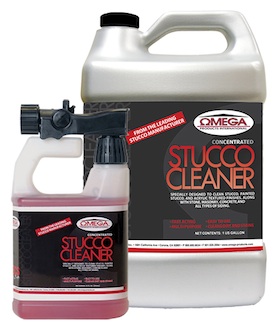 Omega Products International, an industry leader in stucco finishes and systems, announces the release of its latest proprietary product, Omega Stucco Cleaner, a concentrated, water-based detergent designed to dissolve dirt and similar stains from stucco walls and similar products.
The versatile cleaner easily attaches to a garden house and quickly penetrates surfaces to help remove stains without damaging the finish. Stucco Cleaner not only works on cement-based stucco, but is also equally effective on masonry or brick walls, a variety of acrylic finishes, concrete walls, and siding.
"One of the chief concerns for homebuilders when deciding on exterior finishes is durability, maintenance, and appearance," said Todd Martin, Vice-President of Omega Products. "Stucco, just like any other wall system, requires upkeep in order to maintain a fresh look. We designed Stucco Cleaner to not only work wonderfully with our family of stucco finishes, but also a variety of non-stucco systems that are just as susceptible to dirt or other stains."
"A consumer spends considerable amount of money on maintaining the appearance of their car knowing full well that it is a depreciating asset," said Tom Aldana, product sales manager at Omega Products. "It makes sense to invest the same amount of time and effort into the façade of your home because routine cleaning of exterior walls can keep them looking like new for many years."
Most competing products require considerable prep time to ready affected areas prior to applying a concentrated, water-based solution. Omega Stucco Cleaner eliminates any staging and is ready to apply in minutes.
The 32-ounce spray bottle covers up to 1,000 square feet; one-gallon jugs are available for refills.