Other Products: SaltDogg Spreader Stands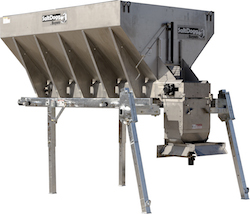 Buyers Products announces new spreader stands for full-size hydraulic SaltDogg spreaders. The spreader stands make loading, unloading and storage simple and efficient.
The six new stands fit 10- to 15-foot full-size hydraulic SaltDogg spreaders and are also designed to accommodate spreaders with prewet tanks. The spreader stands come with built-in rollers on the rear and sides of the unit to make the on and off loading of a dump body easier.
The six SaltDogg spreader stands have solid structural steel construction in either black powder-coated or hot-dipped galvanized finishes and can withstand weights from 1,038 pounds to 1,138 pounds.
Each stand has adjustable legs to be used with various bed heights, and are equipped with either bolt-on or weld-on installation, depending on the customer's preference.