Drill Bits: Hitachi Magnetic Driver Bits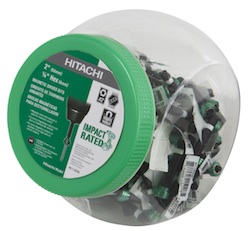 Hitachi Power Tools today announced the launch of its new line of innovative magnetic driver bits. Available in Phillips #2, Square #2 and Star T25, these bits feature incredible holding power thanks to the rare earth metal magnet providing a secure hold on the fastener. They are especially useful during drywall and decking applications or anytime when both hands are needed to manipulate the drill and hold the work material without the added worry of keeping the screw in place.
These patented bits are made from high quality S2 steel with a black oxide finish for corrosion resistance. The strong rare earth metal magnet is stamped into an aluminum collar, which is designed to allow enough movement for the magnet to sit flush against the head of the fastener, yet will also retract to allow for counter-sinking.
These bits are ideal for decking and framing applications, particularly those requiring overhead use or during set up in odd angles—the screw won't fall off, allowing the user to work efficiently and quickly accomplish the task at hand with ultimate control.
All bits are two inches in length and come with ¼" hex shanks so they fit quickly in any impact driver or drill. They are all impact rated for extra durability and less breakage in high torque applications. They come packaged in sets of two or in 100 count cookie jar volumes – perfect for counter top display at checkout.
Available Magnetic Driver Bits from Hitachi
Part # 115003 2-Piece Magnetic Driver Bits (Phillips #2)
Part # 115004 2-Piece Magnetic Driver Bits (Square #2)
Part # 115100 2-Piece Magnetic Driver Bits (Star T25)
Part # 115007 100-Count Magnetic Driver Bit Jar (Phillips #2)
Part # 115008 100-Count Magnetic Driver Bit Jar (Square #2)
Part # 115099 100-Count Magnetic Driver Bit Jar (Star T25)
Hitachi accessories come with a 30-day warranty. For more information on all Hitachi products, visit www.hitachipowertools.com.