Power Nailers & Staplers: Hitachi NR38AK 1 1/2 inch Strap-Tite Fastening System Strip Nailer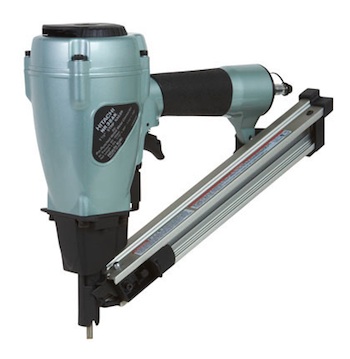 Hitachi Power Tools today announced the newest addition to its extensive pneumatic lineup; a 1-1/2" Strap-Tite Fastening System Strip Nailer, model NR38AK. This nailer is designed specifically for fastening various types of pre-drilled metal connectors to wood by using the nail tip as a guide for exact placement with a sequential drive mechanism.
It rounds out Hitachi's Strap-Tite family and offers superior precision and control for metal connector to wood applications.

The NR38AK accepts commonly used 1-1/2" paper collated fasteners ranging from .131" - .148" at 36 degrees. The positive safety exposes the nail tip so that the user can guide the nail into the pre-drilled metal connector hole without damaging the collation, ensuring each nail is precisely driven. Dry-fire lockout prevents accidental dry-fire and assures the nail is lodged securely for added safety.

The NR38AK's performance is only enhanced by its convenience. This tool is lightweight and well-balanced at just 4.6 lbs, for minimum fatigue during extended use or overhead applications. Maneuverability is enhanced due to the narrow design and short magazine that fits into tight corners and awkward angles with ease.

The rear loading magazine is designed for quick replenishments and has the capacity to accept 29 paper tape nails at a time. A long-lasting non-slip rubber grip helps maintain superior control and comfort during use.

The NR38AK comes with Hitachi's industry leading 5-year warranty and a pair of safety glasses. It is the Strap-Tite nailer for those in the building industry who demand superior precision and control for connecting metal to wood with 1-1/2 fasteners. Additionally- Hitachi offers the NR65AK2 and NR65AK2S (short magazine) 2-1/2" Strap Tite Fastening System Strip Nailers.
For more information including the full line of Hitachi products and support, please contact Hitachi Power Tools at 1-800-829-4752 or visit www.hitachipowertools.com.