Senco SCN63LDXP Structural Foam Insulation Panel Coil Nailer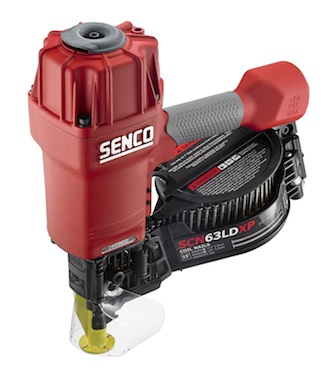 As building product manufacturers continue to introduce new materials to increase the energy efficiency of commercial and residential structures, tool and fastener manufacturers must provide new and innovative products to enable professionals to stay productive. That is exactly what SENCO has done with the introduction of the SNC63LDXP.
This new 15-degree, 2-3/8 – 2-1/2" coil nailer is a highly specialized fastening system designed to only install continuous structural foam insulation panels. Working with a leading continuous structural foam insulation manufacturer, SENCO developed this unique installation system.
What sets it apart from other systems is the driver blade on the SCN63LDXP extends about 1" beyond the safety element in order to drive the nail through the foam and directly into the OSB backer and ultimately, securely fastening into the framing members.
"Continuous Structural Foam Insulation panels are becoming more and more prevalent in industrial wall panel manufacturing plants," states Eric Bellman, SENCO product manager. "As building codes continue to change relative to home insulation and improved R values, continuous structural foam insulation panels are becoming a popular choice to achieve these new R values in residential homes as well."
A unique safety foot guide on the SCN63LDXP ensures proper alignment and a large diameter base helps reduce damage to the foam surface when fasteners are driven. The new tool also features:
360° adjustable exhaust
Tool-Free adjustable depth-of-drive
Comfort grip
Adjustable nail canister
EZ-Load design (A clear magazine door so users can easily see when it is time to reload)
Debris shield
SNC63LDXP 2-3/8 – 2/1/2" Coil Nailer Specifications
Reg. Operating Pressure: 70-120 psi (4.8 – 8.3 bar)
Air Consumption: 60 cycles per minute; 9.54 SCFM
Air Inlet: 3/8" NPT
Tool Weight: 8.1 lbs (3.67 kg)
Tool Height: 13.55" (339mm)
Tool Length: 12.88" (327mm)
Fastener Capacity: 225 - 250
Fastener Range: 2-3/8 – 2-1/2"
Shank Diameter: .113" - .131"
Collation: 15-degree angular flat wire wound coil
Five-year limited warranty
The SCN63LDXP is a special order product because of its highly specialized application. Visit http://www.senco.com for more information.