IDEAL LinearX 3 Compression Kit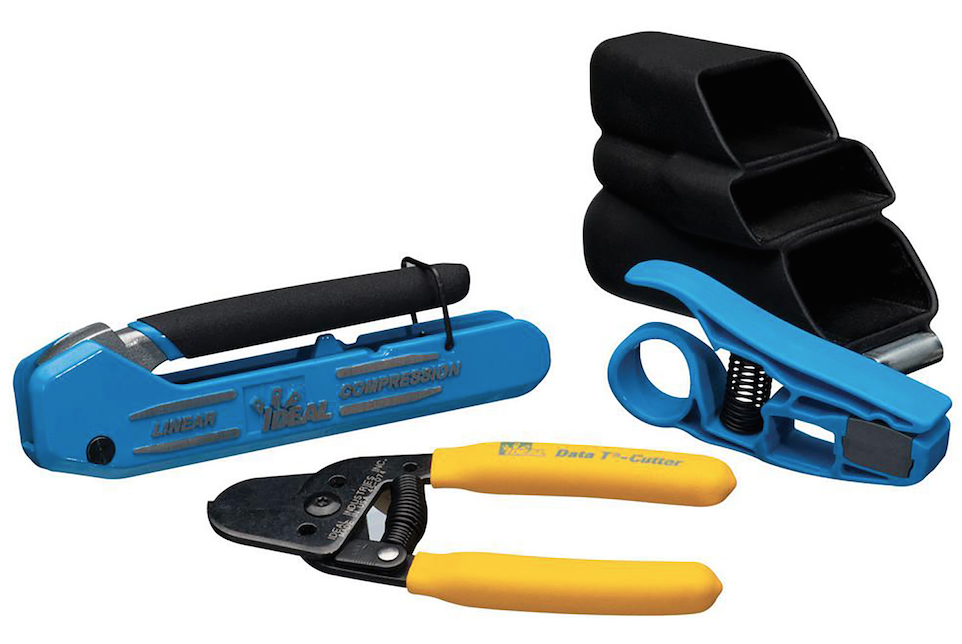 The IDEAL LinearX 3 Compression Hip Kit is a cost-effective, all-in-one solution to connecting F-Type, BNC and RCA compression connectors on coaxial cable.
Quality made in the USA, the kit contains the essential tools needed to strip, cut and terminate coaxial cables, and is housed in a durable hip kit that can be worn comfortably on a belt.
This best-value kit is expressly designed to meet the needs of installers of home theater, CATV, satellite and video surveillance systems, and features the LinearX 3 adjustable compression tool, the PrepPRO stripper for RG-59/6/6 Quad/Plenum coaxial cable and the Data-T Cutter.
At the center of the kit is the LinearX 3 compression tool. It is manufactured using all metal components, resulting in a longer service life since there are no plastic pieces to wear out or crack. The zinc-coated, die-cast body and embossed logo are features typically found on tools costing several times that of the LinearX 3. The handle has a double dipped textured cushion grip for comfort and all-day use, plus has a shorter spread distance in the open position for a comfortable compression cycle for all users.
One-handed operation is possible with compatible connectors. A hinged hasp keeps the tool in a compact closed position when not in use. The LinearX 3 is factory set to compress IDEAL F connectors but has an adjustable post that gives it the ability to compress IDEAL F/BNC/RCA connectors. In addition, the post can be raised or lowered to accommodate several non-IDEAL BNC connectors.
For more information, visit www.idealind.com.