Ideal Tuff-Rod Glow in the Dark Fishing Pole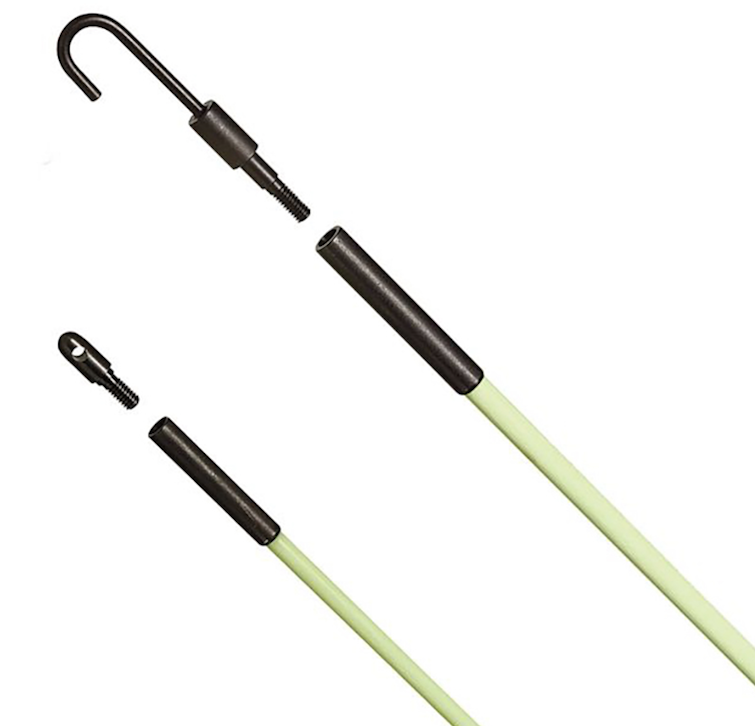 IDEAL Electrical, a trusted leader in professional-grade tools and supplies for electricians and data communications contractors, has expanded its Tuff-Rod push/pull poles family with the new Tuff-Rod Extra Flex Glow luminescent fiberglass fishing pole.
This pale green "glow in the dark" pole is perfect for contractors working in attics, basements and other dim lit areas where it simplifies the task of running wires and cables above suspended ceilings, through interior walls, in cable trays, or other hard to access voids and cavities.
Versatile and easy to use, IDEAL Tuff-Rod Extra Flex Glow poles make fast work of running virtually any type of cable or wire, including speaker and telephone wire, twisted pair data cables, fiber, thermostat, coax and general electrical cables to dramatically reduce time on the job.
The rods feature a 3/18-inch circumference which is more flexible than the company's standard 1/4 inch Tuff-Rod versions.
Non-conductive fiberglass rods can be threaded together to achieve a maximum length of thirty feet, allowing the installer to create custom rods for longer or shorter cable runs. Plus, three attachment-ends extend the versatility. The J-Hook attachment aids in re-positioning wires and re-directing cables, while the Bullet tip is perfect for pushing the rods through wall cavities, under floorboards and similar tight spaces.
The Wisp head is specifically designed for working over the top of suspended ceilings where the large head enables the rod to be pushed over the grid work ridges without getting stuck.
IDEAL Tuff-Rod Extra Flex Glow poles are packaged in clear tubes for protection and long-term storage.
For more information, visit www.idealind.com.