Next Wave Automation Moray Ready2Laser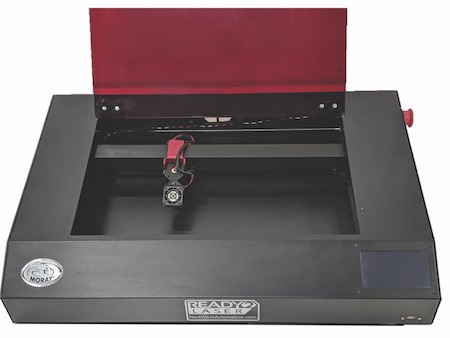 Next Wave Automation has just introduced the Moray Ready2Laser, an affordable desktop laser system that uses a powerful, 7-watt solid state laser diode. The Moray includes desgn software that allows users to create files from almost any image. User can also import images from other software and can raster, trace, and perform light cutting on balsa, basswood, leather and fabrics. Ready2Laser is Made in the USA and is available now.
The Moray Ready2Laser features a 2-1/2" exhaust port for use with standard, shop-style vacuums which are outfitted with HEPA filters to remove smoke and fumes. For heavy use applications, Next Wave Automation offers an optional, inline exhaust system with charcoal filtering system.
Moray Ready2Laser features include:
7-Watt Solid State Laser
LCD color display
Complete with design software
Full Rastering capability
Resolution to .0005"
Use standard G-code files
Shop Vac compatible exhaust –HEPA filter recommended
Made in the USA
Since the introduction of the CNC Shark in 2007, Next Wave Automation has introduced an entire line of Desktop CNC machines and accessories and has won several industry awards for its innovative products. Next Wave Automation products are distributed across the United States by an ever-expanding dealer network.
Founded in 2007 by president and CEO Tim Owens and based in Perrysburg, OH, Next Wave Automation is a U.S. manufacturer of affordable CNC routing equipment and automated machinery for professional woodworkers and woodworking hobbyists of all levels. With core company values of customer service and technological scalability, Next Wave Automation is at the forefront of small shop automation and incorporates versatile compatibility between components and products whenever possible. For more information about Next Wave Automation, go to www.nextwaveautomation.com or call 419-318-4822.