JET 15 Inch Helical Head and Straight Knife Planers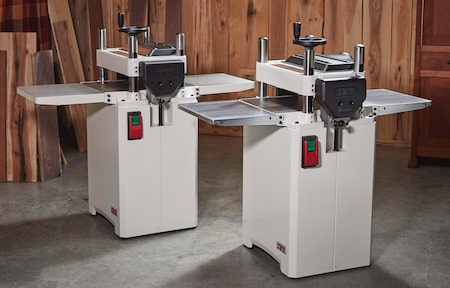 The new, re-engineered line of JET 15" planers – consisting of the 15" Helical Head Planer (JWP-15BHH) and 15" Straight Knife Planer (JWP-15B) –efficiently and quietly transforms rough lumber into accurately dimensioned work pieces with ultra-smooth surfaces.
Both 15" planers include JET's innovative Precision Air Strut System (PASSTM), which provides consistent, upward pressure on the cutterhead, reducing the chance of board snipe. On typical planers, gravity causes the cutterhead to drop after a board has passed through. However, the PASSTM system uses dual, heavy duty, gas struts to support the cutterhead with upward pressure on each side, preventing it from dropping and causing board snipe.
The cutterhead of the 15" Helical Head Planer is equipped with 48, four-sided, carbide-tipped blade inserts for a superior finish and quiet cut. The Straight Knife Planers cutterhead has three, high-speed blades for clean, efficient cutting. Cutterhead speed of both planers is 5,200 RPM.
These heavy-duty machines feature precision ground, cast iron tables; four-post design; and closed steel bases to provide maximum control and support when passing boards through the planer. The Helical Head planer is equipped with rugged, cast iron infeed/outfeed tables. Folding steel infeed/outfeed tables on the Straight Knife Planer help save shop space when the tool is not in use.
The 15" planers are driven by powerful 3-HP, single-phase, 230V motors with V-belt transmissions to reduce vibration and running noise. The motor is operated by an easy-to-access, magnetic switch, which has a green safety light that illuminates when the planer is powered.
A two-speed gear box provides dual material feed rates of 16 fpm for a smooth finish when cutting harder woods and 20 fpm for increase cuts-per-inch and quick dimensioning. A push-pull knob allows shifting between feed rates on the fly.
A large, top-positioned hand wheel with positive gear drive allows for quick and accurate table adjustments. One revolution of the hand wheel adjusts the drum height by 1/16". Both planers have a maximum depth of cut of 1/8". Their maximum planing height is 6" and maximum planing width is 15".
A 4" diameter dust port, located at the top/back of the planer, is angled to direct the dust hose out of the way for easy connection to a shop's dust collection system. A dust collection system with a minimum capacity of 400 CFM is recommended.
The JET JWP-15BHH 15" Helical Head Planer and JWP-15B 15" Straight Knife Planer are CSA certified. They are covered by a 5-year warranty, as well as JET's RED AssuranceTM, the industry's most dependable service and support guarantee program.
To see the new JET 15" Planers in action, click the following video link: https://youtu.be/Ptv3-XWMEg0
Visit www.jettools.com