Compressors: Jenny Products Duplex Compressors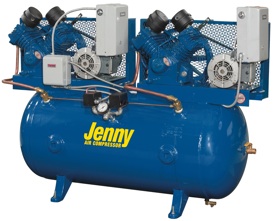 Jenny Products, Inc. announces its complete line of single- and two-stage duplex compressors. Each unit is equipped with two pumps and two electric motors, which can be operated separately or at the same time. This allows the second pump to serve as a back-up or complement the first pump in order to accommodate greater air flow needs.
The duplex compressors are powered by industrial-duty electric motors and come with ASME-certified air tanks.
Single-stage models are available with 60- and 80-gallon tanks and provide 19.6 to 55.6 CFM at 125 PSI.
Two-stage models are offered with 120- and 240-gallon capacities and produce 36.6 to 214 CFM at 175 PSI.
Multiple standard features are included to maximize service life. For instance, a directional air shroud and large flywheel keep pump temperatures low. Furthermore, Jenny's professional-duty "Ultimate Blue" synthetic pump oil protects the units' pistons, crankshaft, bearings, rings and cylinders through a splash lubrication system.
Additional items have been built into the compressors to prevent damage from harsh jobsite conditions. These include protectively mounted fittings and heavy-duty, totally enclosed belt guards. Other standard features include a tank gauge, alternator, magnetic starter, large canister intake filter with replaceable filter elements, auto start/stop control, thermal overload protection and special unloading valves.
Options include an oil sight glass, dryer, aftercooler, lubricator, air line filter, circuit control transformer and low oil-level switch. Dual control, constant run and automatic tank drain features are also available. Furthermore, tanks are offered with ASME National Board certification and in a vertical configuration. Customizable pressure ratings are available upon request.
For more information, contact Jenny Products, Inc., at 814-445-3400, fax 814-445-2280 or visit the Web site.