Compressors: Rolair FC1250LS3 Compressor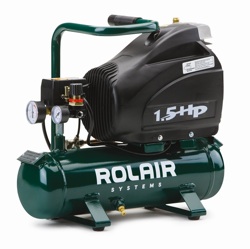 The Rolair FC1250LS3 air compressor's 1.5-hp motor delivers 2.6 CFM at 100 PSI and features Rolair's signature high-quality, heavy-duty, cast-iron cylinder, single-stage, ball bearings, filter/silencer, stainless steel reed valves and splash lubrication to ensure longer pump life.
Key features include: 1.5-hp, 3,400 RPM, overload protection with manual reset, 115 Volt, 60 Hz, heavy-duty, industrial grade with ball bearings for greater durability.
Standard equipment includes: Pressure switch with On/Off lever, regulator w/air line pressure gauge, six-ounce crankcase pre-filled with oil, 95/125 PSI operating pressure, factory tested, safety relief valve.
It has a shipping weight of 47 pounds.