Compressors: Porter-Cable C2004-WK Four-Gallon Compressor
Supports Up to Three Finish Nailers at Once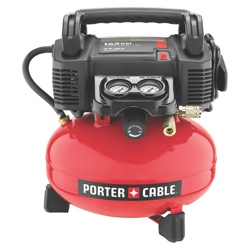 PORTER-CABLE's C2004-WK 165 PSI, Four-Gallon Compressor breaks a new barrier for standard hand carry compressors. The unit packs more useable air than previous PORTER-CABLE models (165 pounds per square inch) and has faster recovery (2.6 standard cubic feet per minute) bundled into a lighter weight, easier to carry package, while reducing operation noise level*. These technological advancements allow for a compact design that supports up to three nailers without compromising professional performance compared to six-gallon tank compressors.
"In response to the need for a quieter, more compact unit that will perform well for a long time, the C2004-WK offers convenience and efficiency on the jobsite," said James Vintzel, product manager for PORTER-CABLE. "The C2004-WK is the perfect solution for contractors that demand compressors to 'keep up' while featuring the ability to support up to three nailers at once."
Weighing a best-in-class 29 lbs. and featuring a 20 percent more compact size than previous PORTER-CABLE models, the C2004-WK is the most portable pancake air compressor on the market. The unit also has an ergonomic handle design located six-inches from the side making the unit easy to transport. In addition, redesigned components and added noise reduction material drops the sound level to an industry tested 75.5 decibels (dBA), making it 30 percent quieter than other PORTER-CABLE models.**
PORTER-CABLE leveraged its experience in high-pressure technology to design the C2004-WK to the high PSI and long life that professional trim contractors demand. Manufactured in Jackson, Tenn., with domestic and foreign materials, the C2004-WK features an enhanced ball drain valve** that provides easy drainage of moisture. Added protection to the feet, tank manifold, gauges and regulator** give the C2004-WK durability and reliability even in the toughest conditions.
The PORTER-CABLE C2004-WK 165 PSI Four-Gallon Air Compressor is backed by a one-year limited warranty and 30-day money-back guarantee. The compressor also includes a lightweight, 25-feet by one quarter-inch red polyurethane hose (with factory installed coupler and plug) that is abrasion resistant, flexible and highly visible for easy identification from other hoses. The C2004-WK will be available in October 2010 and will carry a suggested retail price of $199. The compressor (without the polyurethane hose) will also be part of four combo kits packaged as follows: