Compressors: Jenny W5B-30P Two-stage Electric Compressor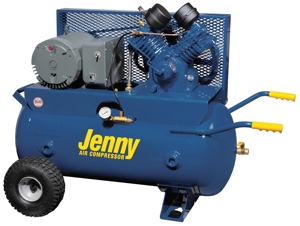 Jenny Products, Inc. introduces its W5B-30P two-stage, electric-powered compressor. The wheeled-portable unit is designed to produce high air flow while meeting the demands of tough jobsites.
The W5B-30P includes a 30-gallon air tank and features Jenny's "W" pump, a four-cylinder, two-stage pump with long piston strokes for producing large volumes of air at high pressure ratings. It delivers 18.1 cfm at 100 psi or 17.9 cfm at 175 psi. The pump is belt driven by a 5-hp electric motor, which requires a 230-volt, single-phase electrical source.
Numerous features come standard with the compressor to optimize its reliability and reduce its maintenance requirements. These include a directional air shroud and a large flywheel for keeping pump temperatures low. Also, Jenny's professional-duty "Ultimate Blue" synthetic pump oil protects the unit's pistons, crankshaft, bearings, rings and cylinders through a splash lubrication system. Furthermore, the compressor's thermal overload protection helps prevent costly damage to the motor.
For easy maneuvering and positioning around the jobsite, the W5B-30P includes two fully pneumatic tires, and convenient lifting handles are integrated into opposite ends of the compressor's frame. Additionally, the compressor comes equipped with a manual tank drain, safety relief valve, large canister intake with replaceable filter elements, special unloading valves, protected fittings, and tank, regulator and outlet pressure gauges. Options include an oil sight glass, air line filter, lubricator, and a CSA-approved model.