MiTek TECO Collated Nails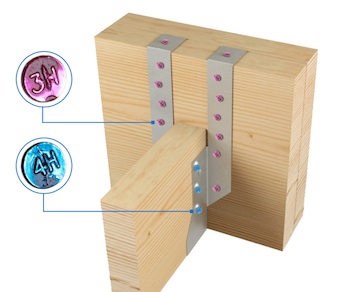 MiTek TECO color-coded, head-stamped nails allow "At a Glance" identification after they have been installed.

MiTek has launched its new brand of pneumatic, collated gun nails, called MiTek TECO. These MiTek TECO collated nails have a color-coded and head- stamping identification system that identifies the nails' length and diameter, before and after installation.
This unique color-coding and head-stamping identification system allows a building inspector, or installer, to determine that the right nail has been used when installing MiTek products, without having to remove a nail for inspection.
Additionally, engineers who need to ensure that the right nails are used as specified can survey a jobsite and determine proper fastener selections by simply looking at nail colors and head stamps.
The MiTek TECO identification system is simple:
Bright nails. MiTek TECO bright nails feature a color to indicate the nail length and a numeric head stamp to indicate the nail diameter. The color purple indicates a 1-1/2" nail, and the color blue indicates a 2-1/2" nail. For head stamps, a #3 indicates a 0.131 inch diameter, a #4 indicates a 0.148 inch diameter, and a #6 indicates 0.162 inch diameter.
Hot-dip galvanized nails. MiTek TECO hot-dip galvanized nails feature a letter stamp on the head to indicate length (A = 1-1/2" and E = 2-1/2") along with the numeric head stamp to identify the nail diameter.
Available in "bright," hot-dip galvanized, or stainless steel, MiTek TECO nails can be installed with the majority of the popular 33-degree paper tape pneumatic nail guns (plus or minus 2 degrees). MiTek TECO nails are manufactured in lengths of 11⁄2 or 21⁄2 inches, in diameters of 0.131", 0.148", and 0.168".
MiTek TECO nails are certified by ASTM F1667 (ASTM A153), and have been evaluated by ICC-ESR 3768 - 2015 & 2012 IRC/IBC.