Threaded Fasteners: GRK Fasteners White Cabinet Screws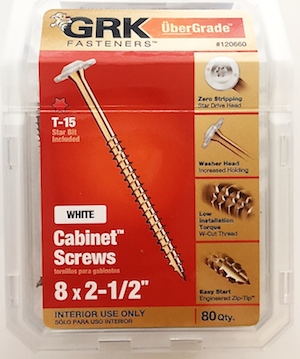 GRK Fasteners, known for offering "The Industry's Toughest Screws," announces a line of White Cabinet Screws in response to the increasing demand for white cabinets in new and remodeled kitchens. The screws are available in #8 x 1 ¼", #8 x 1 ½", #8 x 2 ½" and #8 x 3 ⅛" lengths.
According to a 2014 Houzz.com study on kitchen and bath remodeling, 48 percent of people who redesigned their kitchen and bath chose white cabinets.
"More and more homeowners are asking for fasteners that hide in plain sight for their new white cabinetry," said Greg Martel, product manager for GRK Fasteners. "These screws are necessary for high-end installs where a premium is paid for 'fit and finish' jobs."
GRK's White Cabinet Screws blend perfectly with white cabinet frames without the need of sticker covers. The specifically designed dull white color blends in better than other shiny white coated screws. GRK's specialized coating formulation will not chip while being driven in, allowing for a clean finish. The white heads will also match closet and garage organization systems and are ideal for other interior applications.
As with all GRK screws, the white cabinet screws include many unique engineered features that allow contractors to complete their project with speed, quality and confidence:
Recessed Star Drive: Zero stripping with six points of contact means it's virtually impossible to strip the screw head.
W-Cut thread: Reduces friction on the screw shank, resulting in a lower driving torque for a fast and smoother drive. This avoids binding and reduces the risk of damaging both the screw head and cabinet material.
Zip Tip: Eliminates the need for pre-drilling, allowing for faster installation.
Low Profile Washer Head: Presses flush against work surface for extra holding power. The low profile washer head increases holding power while delivering aesthetically pleasing results.
GRK Fasteners offers a complete line of engineered self-tapping fasteners for many different applications, materials and sizes for all decking projects. GRK products feature at least one patent and offer a limited lifetime guarantee. GRK Fasteners, a division of Illinois Tool Works, Inc., is based in Schaumburg, IL. For more product and service information, visit http://www.grkfasteners.com.