Threaded Fasteners: Starborn Industries Introduces Longer Deckfast Metal Screws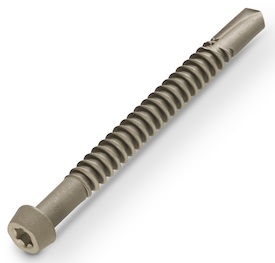 Starborn Industries, Inc., has introduced a new longer version of its Deckfast Metal screw for attaching two-inch PVC, composite or hardwood decking to steel and aluminum framing.
Metal deck framing systems, like Trex Elevations, have become more popular in response to growing demand from architects, deck builders and homeowners for longer lasting, lower maintenance decks.
Deckfast Metal was the first line of color matched deck screw designed specifically for this application. The original 1-5/8" long Deckfast Metal screw is the leading fastener for attaching one-inch decking materials to steel and aluminum framing systems.
The new 2-3/8" Deckfast Metal screw is the only product on the market designed to attach two-inch (nominal) decking materials to metal framing. It is also the only screw approved for attaching two-inch decking to Trex Elevations steel framing.
"Deckfast Metal has provided a real solution for decks built with metal joists. This new longer version screw makes the same solution available for two-inch decking products, which are especially popular in commercial applications including boardwalks and marinas, and other applications where longer decking spans are required," said Scott Nowatzki, National Accounts Manager at Starborn. "Now that metal framing systems are more firmly established in the market, expanding the Deckfast Metal line to cover two-inch thick decking makes perfect sense."
Deckfast Metal is available in ten different colors to match all of the most popular PVC, composite and hardwood decking products on the market. It features triple strength corrosion resistance (grade 410 stainless steel + zinc plating + epoxy coating) and a specially engineered head designed to leave a clean and professional finish in all types of PVC and composite capstock materials, as well as hardwood decking products like Ipe, without pre-drilling.
In addition to the Deckfast Metal line, Starborn also distributes Trex-approved Buildex Teks Select fasteners for use with all steel-to-steel and bracket connections in Trex Elevations framing.
Note: Nominal two-inch decking materials vary in actual thickness depending on the material or manufacturer. The 12 x 2-3/8" version of Deckfast Metal is designed for decking materials with an actual thickness above 1" and up to 1-1/2" attached to steel or aluminum up to ¼" thick. The 10 x 1-5/8" version of Deckfast Metal is designed for materials with an actual thickness of ¾" to 1" attached to steel or aluminum up to 12 gauge or two 14 gauge joists doubled up.
More info: www.starbornindustries.com