QwikLine Thread Chaser Thread Repair Tool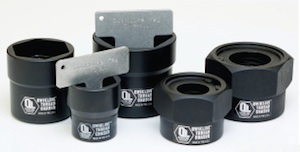 QwikLine Industrial Products has introduced a revolutionary, patent-pending, industrial strength line of thread repair tools used in the Concrete and Heavy Duty Construction, Automotive, Trucking, Heavy Equipment, Agriculture, Oil and Gas, Railway, Military and any other industries to repair damage or obstructed threads on bolts and studs.
An industry first, the QwikLine Thread Chaser (QTC) is the only thread repair tool in the world that is designed to withstand hundreds of uses with an impact wrench and, because of the tool's design, can repair cross-threading in seconds.
The QTC, using QwikLine's proprietary, patent-pending technology allows the tool to install on a bolt by simply sliding over and past the damaged thread area, and then precisely repair the damaged threads as the tool rotates through the damaged area and back off the bolt or stud. No messy oil is necessary, which is common among other thread chasers.
Repairs are exceptionally quick and easy regardless of whether the damage is light or heavy and it can repair damaged threads on the end, middle, or base of the bolt or stud with equal ease and precision. Quite simply, it provides a perfect repair each time in seconds!
Made in the USA, QwikLine says it manufactures the most user friendly, high-precision thread repair tool on the market with available sizes that repair 3/8" (or 10mm) to 4" (or 100mm) diameter bolts or studs, with larger sizes available upon request.
QwikLine also produces thread repair tools for galvanized and coil threads but QwikLine tools can be manufacture to most any thread profile. The compact tool design along with QwikLine's External and Internal Hex drive socket (socket available in short, medium, and long lengths) allows the QTC to get into very tight spaces and is great for quick repairs in the shop or in the field. The QTC is a highly valued tool and will increase productivity in any shop.