Starborn Deckfast Epoxy Coated Trim Screws in Tan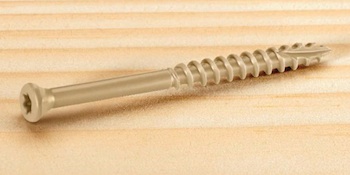 Deckfast Epoxy screws are now available in trim head. These screws have the same great features the contractors love about the flat head version including: extra deep star drive recesses, type 17 auger tips, and a specially formulated, color matched, epoxy-based polymer resin coating.
Deckfast Epoxy Trim screws are available in tan (more colors coming soon). Sizes 1-5/8" to 4". ACQ approved.
Call 800-596-7747 or visit www.starbornindustries.com