Milwaukee 6 Inch Leveling Tripod Chain Vise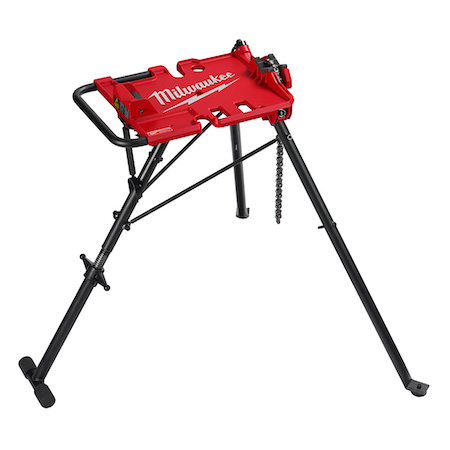 Milwaukee Tool reinvents pipe stand form and function with the launch of their 6" Leveling Tripod Chain Vise. With hassle-free deployment and new-to-world STABLE LOK™ functionality, this tripod chain vise delivers unmatched portability and lifelong steadiness for tradesmen installing pipe, conduit, and other materials.
"We saw the opportunity to challenge the status quo," said Alex Boll, Group Product Manager for Milwaukee Tool. "Chain Vises are used by virtually all of our mechanical and electrical contractors and the design hasn't changed in decades. Most of the stands seen in the market today are difficult to transport, inefficient to deploy, and become unstable as the joints wear down from harsh jobsite environments. The 6" Leveling Tripod Chain Vise takes on all of these common frustrations."
A fold-flat design and a centered carry handle enable balanced, briefcase-style transportation, and compact storage in vehicles and job boxes. With only two simple steps to deploy, the chain vise eliminates multiple setup hassles and delivers the quickest, painless set-up. Equipped with STABLE LOK™, contractors can easily adjust the tension of the deck to maintain steadiness throughout the life of the stand. The tripod features an adjustable leg, allowing the deck to be pitched +/- 3 degrees for level alignments. With a multi-material chain vise, a larger work surface, and optimized tool storage, this stand can serve as a portable work desk while on the jobsite.
Three accessories, sold separately, are also available for use with the chain vise. A Lower Shelf provides over 1.5ft2 of additional storage and its purposefully designed hooks make for easy installation and removal. A PVC Coated Pipe Jaw is designed to protect PVC coated pipe and the Stainless Steel Pipe Jaw reduces corrosion while cutting or welding stainless steel materials are also available.
Milwaukee is committed to continuing growth by providing trade focused solutions that offer industry-leading performance, innovative features, and increased durability.
Specifications
Milwaukee® 6" Leveling Tripod Chain Vise (48-22-8690) - $459.99
Pipe Capacity: 1/8" - 6"
Stability Adjustment: STABLE LOK™
Leveling Adjustment: +/- 3 degrees
Storage & Transport Profile: Flat, briefcase-style
Storage Height: 49.5"
Storage Depth: 5.25"
Additional Accessories:
Lower Shelf (48-22-8695) - $99.99
PVC Coated Pipe Jaw (48-22-8696) - $144.99
Stainless Steel Pipe Jaw (48-22-8697) - $124.99
Standard Jaw (48-22-8698) - $64.99