NAVAC NTE11L BreakFree Power Tube Expander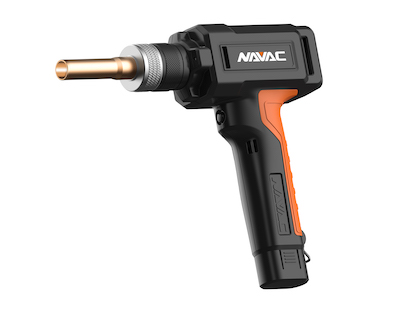 NAVAC, the world's largest supplier of HVAC vacuum pumps in addition to a wide array of tools, gauges, charging machines, recovery units and industry-specific items, introduces its next-generation power tube expander. NAVAC's battery-driven NTE11L BreakFree™ Power Tube Expander offers effortless, efficient and precision expansion for tubes in the 3/8" to 1-1/8" range.
The BreakFree™ Power Tube Expander can perform its duties in just 12 seconds with the touch of a single button. Its long-lasting, rechargeable lithium battery allows up to 200 expansions per charge, and recharges in just 30 minutes.
Other features include an LED flashlight, a battery power indicator and a "Quick-Connect" design to switch expanding heads in just two seconds.
The new power tube expander's battery and charger are compatible with NAVAC's previously introduced NEF6LM BreakFree™ Power Flaring Tool, and expander heads from the company's NTE11H Hydraulic Expander can be shared with the NTE11L via a convenient adapter.
Meanwhile, NAVAC recently received UL certification data on two of its signature refrigerant recovery units. First, the company's NRDC4M Recovery Unit – the world's first DC inverter 4-cylinder recovery unit – has been substantiated as the fastest and most powerful machine of its kind on the market, per UL certification data.
Operating up to 40% faster than 2-cylinder units, the NRDC4M utilizes an efficient brushless DC motor and ultra-effective condenser with an oversized microchannel coil and three cooling fans. Featuring dual oil-free compressors, the unit is suitable for all commonly used refrigerants. The NRDC4M recovery unit is ideal for large tonnage commercial and industrial HVAC systems.
In addition, NAVAC's NRDD Recovery Unit has been substantiated as the market's fastest twin-cylinder recovery unit, also per the latest certification data. Exemplifying NAVAC's overall mission of making technicians' jobs simpler and more efficient, the NRDD Recovery Unit features a brushless DC motor that allows it to provide substantial power in a compact size and weight of just 25 pounds. This DC technology also provides better starting performance under low voltage conditions.
The NRDD's twin-cylinder compressor and oversized condenser with two rows of microchannel coils offer exceptionally efficient vapor recovery. Another benefit of NAVAC's NRDD Recovery Unit is its ease of use. Its large, LCD display is backlit for clearly visible, highly intuitive operation, and its modern, sleek appearance give its user the show-worthy confidence of high-precision manufacturing.
NAVAC is a global manufacturer that has dedicated over 20 years to the R&D and manufacturing of industrial vacuum solutions and HVAC/R tools. NAVAC draws upon its commitment to technical innovation, strong customer service and robust R&D allocation to deliver solutions offering unsurpassed efficiency, accuracy and ease of use. Comprising a full lineup of tools, gauges, detectors, charger and vacuum pumps, among other solutions, NAVAC's product portfolio is designed with one overarching concept in mind: user-friendliness. The company seeks to meet a need for simpler, lighter, faster solutions that expedite service without sacrificing accuracy.
For more information, www.navacglobal.com.