Milwaukee RLS ACR Press Jaws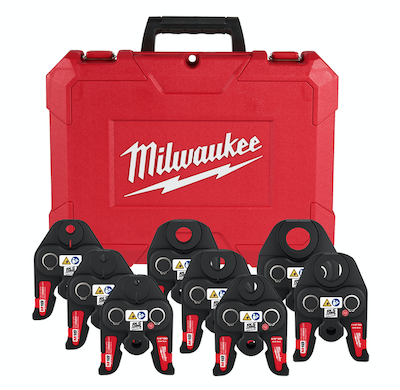 Milwaukee Tool is once again advancing the compatibility of the innovative M18™ FORCE LOGIC™ line of press solutions with the RLS® fitting system. The new RLS® ACR Press Jaws for M18™ FORCE LOGIC™ press tools will enable contractors to complete HVAC and refrigeration installations with a flame-free, efficient alternative to traditional brazing.
Eliminating the need for nitrogen purges, combustible gasses, and expensive silver solder necessary for traditional methods, the new RLS® ACR Press Jaws enable up to 60% faster connections. The first full size press tool jaws compatible with RLS® (formerly ZoomLock®**) braze-free HVAC/R fittings, these jaws deliver single press connections on 1/ 4" to 1-3/8" sizes.
The new RLS® ACR Press Jaws will fit the following Milwaukee Press Tools:
2922-20 M18™ FORCE LOGIC™ Press Tool w/ ONE-KEY™: This tool features an in-line design and brushless motor and can achieve more run-time per charge and faster cycle times. It is significantly smaller and nearly 20% lighter than the leading competitor. Enhancing the overall press connection experience by logging and uploading data via the One-Key™*** desktop or mobile app, this tool is the most intelligent press tool on the market.
2773-20L M18™ FORCE LOGIC™ Long Throw Press Tool: This tool is the smallest, most intelligent extended length press tool. The in-line design offers unrivaled access for navigating around installed pipes, while also delivering on the highest level of press accuracy and reliability.
* FORCE LOGIC™ is engineered to not only improve upon, but fundamentally change the way high-force tools are used in the field. Through thoughtful design focused on workflow, each tool simplifies a complicated process to deliver the best user experience of its kind and the smartest way to work.
**ZoomLock® is a registered trademark of Parker Intangibles LLC and use does not imply any affiliation with or endorsement by Parker Intangibles LLC.
***ONE-KEY™ is the first digital platform for tools and equipment. By integrating industry-leading tool electronics with a custom-built cloud-based program, ONE-KEY™ provides a new level of control and access to information that revolutionizes the way work gets done. The ability to customize, track, and manage through ONE-KEY™ fundamentally changes the way users interact with their tools.