Drill Bits: Drillco TiN-Tipped Drills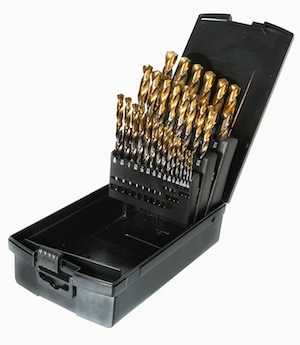 Drillco Cutting Tools, Inc. of Baton Rouge, Louisiana, introduces a new series of TiN Tipped jobber drills for the Industrial and Construction markets.
The new 450T series drills come with a self-centering 135° split point that helps eliminate "walking" at the point of entry.
TiN (Titanium Nitride) coating is applied to 25% of the drill, giving the full benefits of a fully coated product at an exceptional value. TiN coatings allow for faster operating speeds and feeds, and longer tool life when compared to standard uncoated drills.
The 450T series drill is designed for use in a wide range of materials including both soft and hard materials such as steel, stainless steel, aluminum, nickel, titanium, and plastic.
It is ideal for both hand-held portable drills and CNC machines. The drill is available in jobber length in fractional and wire gauge sizes, as well as a variety of sets.
For more information, please contact the Drillco customer service team at 800-851-3821 or email sales@drillco-inc.com.