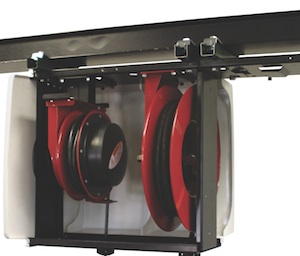 Reelcraft Industries offers mounting assemblies for mounting Series 7000 reels to an I-beam or for overhead support. The assembly includes a channel for one or two reels and beam clamps for attaching the reels and channel to an I-beam without compromising the structural integrity of the beam.
Mounting channels can be mounted end to end to mount three or more reels. Reelcraft's hose reel cabinet can also be used with the mounting assembly to enclose the reels and protect them from the surrounding environment.
To permit the mounting of Reelcraft Series RT, 4000, 5000, 5005 and electric cord reels on a mounting channel, an adaptor assembly must be used (#600230).
For additional information call 1-800-444-3134 or visit Reelcraft at www.reelcraft.com.