Power Nailers & Staplers: PREBENA 1GP-A16 Stapler with Opti Wear Technology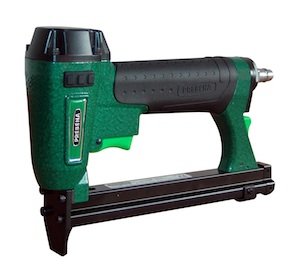 German pneumatic stapler and nailer, compressors and fastener maker PREBENA Wilfried Bornemann GmbH & Co. KG has developed "OPTI WEAR TECHNOLOGY" a completely new generation of pneumatic staplers and nailers.
Optimized wear parts "Made in Germany," including seal kits, pistons and bumpers are manufactured from new materials and guarantee an extremely high number of shots and therefore an extraordinary long service life.
Maintainability, low air requirement, low noise and vibration level characterize PREBENA OPTI WEAR TECHNOLOGY. A smooth trigger system with an extremely fast shot capacity provide user-friendly operation. These tools are tested and certified technology by the German technical control association TÜV.
The PREBENA pneumatic stapler 1GP-A16 is the first tool with the new technology. The tool fires Type A staples from 4 – 16 mm and is ideal for continous use in industrial manufacturing, especially for the upholstery industry.
More PREBENA pneumatic nailers and staplers with OPTI WEAR TECHNOLOGY will follow.