Simpson Cement Board, Underlayment and Subfloor Screws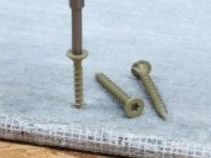 Simpson Cement Board Screw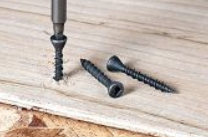 Simpson MTH Underlayment Screw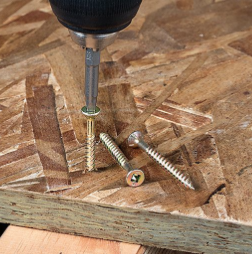 Simpson Strong-Drive WSNTL Subfloor Screw
Simpson Strong-Tie now offers a comprehensive set of fasteners designed for improved installation of cement backerboard, subfloor and underlayment materials.
The Cement Board screw, MTH Underlayment screw and Strong-Drive WSNTL Subfloor screw are designed with sharp points and deep-recessed heads to make installations fast and easy with fewer cam-outs.
Their thread design ensures that materials are held together tightly and create a more uniform foundation for tile, counters, backsplashes or floor coverings.
The ANSI A108-compliant Cement Board Screw is easy to install and durable. With its corrosion-resistant coating, the Cement Board screw is ideal for use with all tile and cement backerboards.
The MTH Underlayment screw is designed for fast and secure underlayment-to-subfloor installations. It prevents squeaking by holding underlayment tight to the subfloor and resisting pullout.
Its compact trim head allows for a flush surface and prevents floor coverings from settling in countersink recesses.
The ICC-ES ESR-1472 code-listed Strong-Drive WSNTL Subfloor screw has a twin-lead thread pattern that allows for quick and secure subfloor installations.
With lateral, shear and withdrawal values that exceed those of 10d common nails, its holding power eliminates the gaps between the joist and subfloor that cause floor squeaks.
The WSNTL screw countersinks easily and backs out smoothly, allowing for easy future access to floor cavities.
Visit www.strongtie.com/underlayment for more information.