Measurement: Rockler 3-in-1 Bar Gauge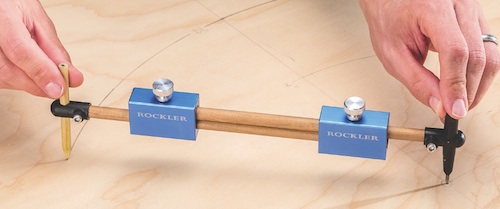 Rockler Woodworking and Hardware is introducing an affordable 3-in-1 Bar Gauge that makes it easier to square up drawers, cases and frames, transfer accurate project dimensions and draw arcs or circles of practically any size.
"Tape measures are ideal in many situations, but they won't work well for all marking and measuring jobs," said Steve Krohmer, Rockler's vice president for product marketing. "If you're gluing up a cabinet, clamps can get in the way, making it impossible to get the accurate diagonal measurements you need to make sure the cabinet is square. The 3-in-1 Bar Gauge solves that problem – and several others, as well."
The keys to the tool's versatility lie in its three sets of interchangeable tips and the fact that the two durable aluminum body sections are machined to work with easy-to-find 3/8" wooden dowels or metal rods of any length, allowing users to customize the gauge's extension to fit the project.
Setup is quick and easy. The dowels or rods install in the gauge body sections by tightening a couple of set screws, and the length is adjusted by sliding the gauge body sections together or apart. Large knurled locking knobs make it easy to lock in the setting. Tips mount on the end of the dowels or rods by tightening set screws.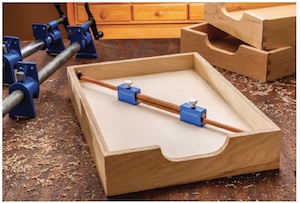 The angled tips are designed to fit easily into the corners of case assemblies to check for squareness. They're also narrow enough to fit in the grooves for a drawer bottom, allowing users to precisely size a panel without risking the inaccuracy and errors that sometimes can occur with measuring.
The flat tips allow for dimensions to be transferred directly from one part of a project to another, eliminating problems related to imprecision or mistakes in measuring. They also have broad faces to help keep them from tipping over while in use.
The trammel tips turn the 3-in-1 Bar Gauge into a compass of almost unlimited capacity. Because users determine the length of the rods or dowels, they can draw arcs and circles of practically any size. The marking tip accepts standard pencils.
For more information, please visit www.rockler.com or call 1-877-ROCKLER.