Professional Measurement: Bosch GLM 15 Laser Measure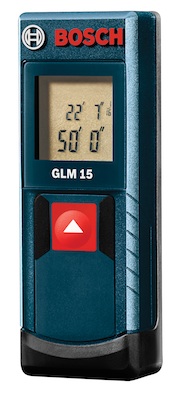 Small doesn't mean modest and Bosch is proving just that by offering a small tool with a big attitude – and even bigger capabilities. With its simple, one-button operation and pocket-sized precision, the new GLM 15 laser measure will change the way the world measures.
"The new GLM 15 has what we call 'exactitude,'" said Brian Vranek, Bosch product manager. "It delivers on our goal of providing pros and consumers alike a spot-on measuring tool that's portable, accessible and uncompromising in accuracy. This small tool has a big attitude because it gets big results."
With pocket-sized precision, GLM 15 can go where measuring tape can't. Bending tape to get into corners, or asking for a second set of hands to hold the tape in place is no longer necessary.
"Whether you're a residential or commercial remodeler working on a project bid, a painter estimating supplies, a real estate agent sizing up a home or an installer making space for new cabinets – the possibilities with this tool are endless," said Vranek.
The GLM 15 redefines simplicity. With a single touch of a button, the unit turns on and defaults to always-on measuring, perfect for walk-off measurements. Click the button again to record that measurement. And when you're done, press and hold that same button one more time to turn it off.
"It doesn't get any easier than the GLM 15," added Vranek. "As soon as the tool is turned on, it's calculating precise distances up to 50 feet and within 1/8-inch of accuracy."
Bosch engineered an exclusive, state-of-the-art solution for smaller laser components. With its exclusive patented small technology, the GLM 15 fits in a pocket to go anywhere. A square, flat design makes the product easy to use on any surface. Rest it on a flat surface, and measure in any direction with the display screen pointed the same way. Measurements start at the back of the tool for easy distance marking.
The GLM 15 will be available in September 2014 at authorized dealers nationwide for a suggested retail price of $49. To find out more or to locate a dealer, visit www.boschtools.com or call 877-BOSCH-99.