Stationary Tools: KMT C316 & C370 Series Vertical Column Cold Saws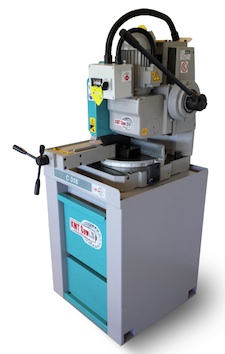 KMT C316 & C370 Series vertical column cold saws provide extremely stable saw frame guidance, stability and vibration-free sawing
The Kalamazoo Machine Tool C316 & C370 Series cold saws are heavy-duty mitering machines with a vertical column design that provides extremely stable saw frame guidance, stability and vibration-free sawing.
The vertical column design is more rigid than a hinge-style chop saw, delivers better blade life, requires less effort, and can cut larger solids.
The KMT C316 Series saw features a 12-1/2" blade, and the KMT C370 features a 14" blade. Both models are available with completely manual operation or manual sawing operation with a quick clamping air vise.
The machines can operate in a conventional 90° cutoff mode for conventional sawing, and with a simple turn of a locking lever, the saw frame can be swiveled to any desired angle up to 45° left or 60° right for miter sawing.
The mitering device carries a highly visible scale, and comes equipped with a preset stop for accurately returning to zero.