Stationary Tools: Kalamazoo H275 Band Saw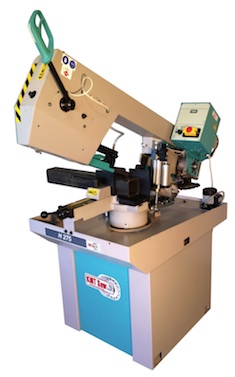 The Kalamazoo Machine Tool Model H275 manual band saw is engineered to accurately cut tubes, pipes, light structural shapes and small solids up to 10-inches at 90 degrees. The saw's heavy-duty construction, carbide saw guides and rigid guide supports ensure accurate, straight cuts.
The saw has a variable speed blade from 65 to 320 fpm and can accurately miter up to 60 degrees to the right.
The Model H275 features a 2-HP TEFC Motor coupled directly to the worm gear drive for smooth power transmission to the saw blade.
Operations include manual sawframe raise, manual vise, hydraulic/solenoid powered downfeed, and status indicators for power on, correct blade tension, broken blade and bandwheel cover open.
Other features include 24 Volt controls, Bi-metal blade with shutoff for broken blade or low tension, blade drive load monitor and full coolant system.