Power Nailers & Staplers: Senco SNS200XP Stapler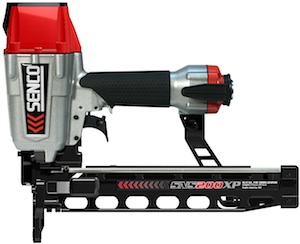 Senco expands its line of pneumatic construction staplers with its SNS200XP for driving 16- and 17-gauge, 7/16-inch crown, 1- to 2-inch staples.
The new stapler offers greater durability and power for use in a variety of applications, including sheathing, furniture framing, roof decking, sub-flooring, crate and box assembly, pallets, cedar shingles, furring, metal tie-down straps, fascia and soffits, and ridge beam assembly.
It weighs just 5.3 pounds.
Operating at 70 to 120 psi, the SNS200XP is equipped with a high-capacity, all-metal magazine that holds 160 staples. The magazine's innovative removal mechanism provides a clean, narrow site line for precise staple placement into all substrates. In addition a precision-machined drive track prevents jamming.
A dual-action trigger allows continuous "bounce" firing along a work surface at a rate of more than 10 staples per second for high-volume production. Other convenience features include an open magazine design for monitoring fastener level; tool-free adjustable depth of drive; long, narrow nose for access to tight corners; rotatable belt hook; and a soft comfort grip to reduce vibration and fatigue.
The SNS200XP carries a limited five-year warranty and a MSRP of $239.