Power Nailers & Staplers: Prebena 2X-CNH45 Nailer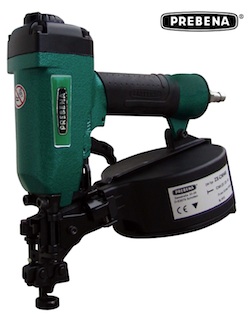 German manufacturer of pneumatic nailers, compressors and fasteners PREBENA Wilfried Bornemann GmbH & Co. KG adds the 2X-CNH45 pneumatic nailer to its professional range.
The 2X-CNH45 is designed for coil nails type CNH from 25 – 45 mm (1" – 1-3/4") which are mainly used for attaching metal connectors for metal sheet roofs.
The Pneumatic Nailer 2X-CNH45 is delivered in a sturdy plastic case and has additionally the following features and advantages:
Special tooling plate for ideal nailing - nails will be driven straight into the wood
Tool free depth control
Special nose with no-mar tip for accurate nailing
360° adjustable exhaust
Safety device
Exhaust silencer
Ergonomic, rubbered handle grip
The plastic-sheet collated nails guarantee residue-free production.
This tool can be used ideal in combination with the PREBENA PNEUMATIC MOBILO compressed air system for mobile and independent working on construction site. With one compressed air cylinder, the tool can easily fire up to 500 shots.