Nailers & Staplers: Steelhead stainless steel finish nails
Steelhead 304 stainless steel finish nails now come in 15-gauge angled, 16-gauge straight and 18-gauge brads.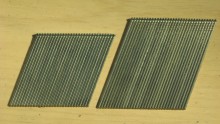 These new fasteners, which Steelhead Fasteners has added to its already extensive line of collated specialty fasteners, work in Paslode or DeWalt 16-gauge angled finish nailers.
Available sizes range from 1-1/2- to 2-1/2- inches in length and are packaged 2,500 nails to a box. Like most of its stainless collated fasteners, Steelhead's new 16-gauge angled finish nails are manufactured to meet AISI 304 Grade Standard.