Power Nailers & Staplers: Senco SHF200 Flooring Cleat Nailer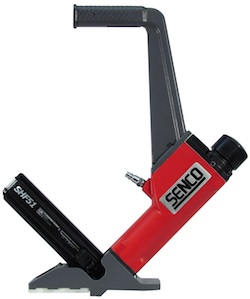 Senco introduces the SHF200, a compact, high-speed pneumatic cleat nailer that makes professional hardwood flooring installations fast, safe, and more affordable.
Delivering five percent more power than other flooring nailers in its class -- 547 inch-pounds at 100 PSI -- the SHF200 is easy on the arm. A single mallet strike is all it takes to flush drive 16 gauge "L"-shaped cleats into engineered and solid hardwood flooring materials ½" and ¾" thick.
No tools are required to adjust the nailer for different flooring thicknesses. Simply lift and rotate the non-marring base plate to the desired depth setting, and release to lock it back into place. With the plate resting squarely against the surface, the tool is perfectly aligned above the tongue on the floorboard for accurate cleat placement, every time.
"Field testers have responded enthusiastically to this proprietary all-in-one design because it saves time and there is no need to carry extra base adaptors that can get lost on the jobsite," says Senco product manager Joe Knueven.
"The combination of the composite shoe and the use of cleat nails minimize the risk of scratching or splitting, which is critical when installers are working with prefinished hardwood flooring or thinner material," adds Knueven. "Cleats also allow for seasonal expansion and contraction of the wood, which extends the life of the floor and reduces callbacks."
The SHF200 is equipped with a safety trigger that must be actively depressed to fire, so users don't have to worry about a fastener ejecting and damaging the floor or causing injury if the tool gets knocked over or bumped during transport. It also has an angled fitting to keep the air hose free and clear during operation.
With a magazine capacity of 107 fasteners, the SHF200 accepts standard 16-gauge "L" shaped flooring cleats ranging from 1-1/2" to 2" long.
Weighing just 10 pounds, it has a durable aluminum body and an elongated handle design with a comfort grip to reduce fatigue and provide more control. A two-step rear-loading magazine allows for quick and easy fastener replenishment.
The SHF200 comes with a rugged carrying case, mallet, oil, wrenches, and safety glasses, and is affordably priced at $299.
The tool has a five-year limited warranty and is available through professional distributors including STAFDA, dealer co-ops, lumberyards, tool rental shops and online retailers.